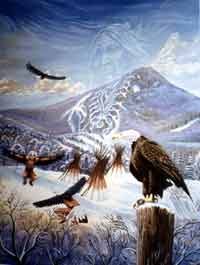 Courtesy of Seneca
Eli Thomas and Hunter Mt, N.Y.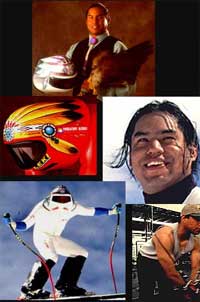 "Cheyenne Ross Anderson - Fastest American on Skis, 2nd in World, 2002."
- Sports Illustrated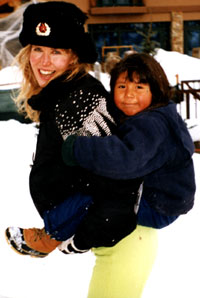 Olympian Suzy "Chapstick" Chaffee, NAOTF's Co-founder and Co-chairman, gives a ride to Navajo Cissy Esiddy at Telluride, CO, the pioneering ski resort.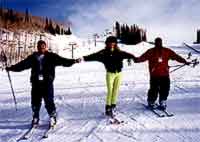 Skiing - The bridge to unity! Broderick Hight, Suzy and Kerwin Tom of Ute Mt.
NATIVE AMERICAN OLYMPIC TEAM FOUNDATION
(Formerly Native Voices Foundation)
Creating Joyful Unity through sports and education to heal Mother Earth
for all our Children, including through the Olympics.

When Aborigine Cathy Freeman carried the torch in the Australian Opening Ceremonies and then won the gold, she became a hero to a new generation of Australians. NBC's focus on the Australian - Aborigine breakthrough at the Sidney Olympics gave Americans hope and a vision of how we could use our Games to uplift our 560 Nations.

Naomi "Morningstar" Lange of the California Karuk tribe winning her 4th National Ice Dancing Title on ABC, a medal contender at the Salt Lake Olympics on Feb. 18, 2002.

For latest pics of Naomi and other skating stars: http://www.cmmskating.com/album.shtml


America now has a winter sports hero in Ross Anderson, a Cheyenne-Arapahoe-Apache who just became the "Fastest American on Skis, Second in the World" (see July SI article) at the World Speed Championships in Les Arc, France. While Speed Skiing is not an Olympic Sport until 2006, this great role model for kids (who carries the rocks of Mother Earth in his medicine bag), could lift our consciousness, much like Cathy, and become a hero to a new
generation of Americans. As a member of the Native American Sports Council of the US Olympic Committee, and advocate for
Native Youth, Ross is a force.
NBC's focus on the Australian - Aborigine breakthrough at the Sidney Olympics gave Americans hope and a vision of how we could use our Salt Lake 2002 Olympics to inspire a reconciliation at home

(Click on photo for a larger view)

Flipping over the Matterhorn ...

James Kleinert, Seneca Iroquois, former member of the U.S. Freestyle Team and award winning film maker. He's currently producing "Spirit Riders" - a documentary on Orvil Lookinghorse, Keeper of the White Buffalo Calf Pipe, and his World Prayer Celebrations. Kleinert would both ski and help shoot the proposed "Mountain Spirit Celebration." .

What do we mean by Reconciliation?

As a result of NAOTF Native Ski Healing Celebrations that started in Colorado, America's unique way of starting a reconciliation is creating a friendly dialogue by sharing the joy of skiing. Through the ceremonies held at ski resorts, leaders have spoken from the heart about America's mistakes and expressed appreciation for the vital contributions that the First Americans have made to our states, America and the world. We've begun to understand Native values and their perspective of Nature and history. By making amends, we are creating a new beginning. In fulfilling the National Forest Service's mandate to provide opportunities for Native Americans on Forest lands (ski areas), we may well create a generation of Native Olympians.
The extreme abuses of the Government Boarding Schools to the Indigenous Peoples of Canada (same in the US) was exposed on "60 Minutes" recently. The Canadian Government and Church apologized in 1999 to their First Nations People with a $350 million fund to stop the generationally expanding abuse. The US Bureau of Indian Affairs apologized for their treatment of Native Americans in 2000. Learning that ministers have been apologizing to Native Americans at Stadium gatherings across America for misinterpreting their religion, stealing their land, and killing their people, Chaffee asked a Southern Ute leader how they'd like to start a healing. "We'd like to have a celebration of unity for the benefit of all our children," said Eugene Naranjo. NAOTF assisted Telluride in inviting them back to their ancestral lands to share the joy of skiing at a "Welcome Home Ute Celebration" weekend. At the ceremony the Mayor, Judge, and Telski's Ron Allred spoke from the heart to 30 tribal leaders, Elders, dancers and children. Many onlookers had tears of hope when they were asked to join the magnificent dancers in a Friendship Circle Dance. The Utes invited Ross Anderson, a Cheyenne speed skier who pioneered the program at Durango Mountain Resort, and became the first NAOTF ambassador 1996-2003. . A superstar in Europe and Asia, he had a vision of creating a bridge to Europe that may be realized soon by French Princess Carolina Murat (descendent of Napoleon) who wants to honor Native Americans at a Ski celebration in Gstaad, Switzerland.Top of Page

Olympic skier/NAOTF Board Billy Kidd,
founded the "Ute Future Olympians Program at Steamboat.