NVF and SnowSports Industries of America (SIA),
November 29, 2001)
SKI WORLD RALLIES SUPPORT
FOR FIRST AMERICANS SIA's
"DONATE-A-SKI" PLEDGES $300,000.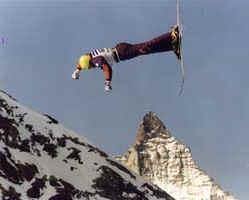 Returning to Aspen from being honored at the U.S. Ski Team Ball in Chicago,
Olympian Suzy Chaffee enthused, "I am so proud of my Olympic teammates, like Billy Kidd, the Mahres, McCoys, Cochrans, Rosie Fortna, Tommy Moe, and my eco teacher/brother Rick. They voted our Native American Olympic Team Foundation the Havaline Texaco Star Award to help fund our programs 'to welcome Native Americans with their environmental values, back to their ancestral lands, to ensure that future generations have our opportunities to ski.'"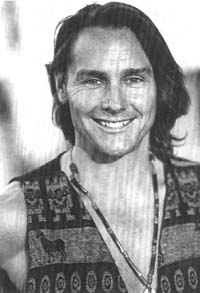 Following the presentation by John Carideo of Chevron Texaco, fellow honoree, Senecan James Kleinert, a former member of the US Freestyle Team, now an award winning Jackson Hole filmmaker, thanked everyone on behalf of Indian Country.
To further help lift Native Americans this Olympic Year, as past Olympics have for the Aborigines, Women and Blacks, SIA's Donate-a-Ski, spearheaded by Billy Kidd, pledged to give $300,000 worth of ski and snowboarding equipment and clothing to be shared by the 560 American Indian Nations. Spearheaded by Olympian Billy Kidd, it will be distributed by NVF through its "Olympic Spirit Awards." A package will be given to a promising winter athlete from each tribe, chosen by Elders, who best exemplifies the Olympic ideals. (Click "Olympic Dreams Projects" for more details) "In essence, these gifts from Texaco and snow sports leaders truly welcomes Native Americans into the Olympic Family, making their honoring at Salt Lake's Opening Ceremony more meaningful," agree NVF Co-chairmen Chaffee and Brian Wallace, Chief of the Washoe Tribe, who has a model ski program in Lake Tahoe.
"The donation of clothing and equipment will be used to start or bolster each tribe's winter sports programs," said Donate-A-Ski Director Jean Mattie. It is part of
a national grass roots effort, led by skiers, to improve the lives of our Native American (Earth Guardians), whose life expectancy is 20 years less than ours.
"We feel especially thankful for the opportunity to share our love of winter sports with so many deserving people," said David Ingemie, President of SnowSports Industries of America (SIA) and the foundation that funds Donate-a-Ski.
Dozens of ski areas across America this season will be sharing the joy of skiing this Olympic season with their local tribes - 50-150 tickets, lessons and equipment. They will also be honoring the Natives with ceremonies. like Telluride, Aspen, Vail, Steamboat and Durango Mt have hosted over the last 6 years for thousands of Colorado Utes and other tribes living there. At the ceremonies, Natives share their dances and earth-honoring perspective, that reminds us of our own ancestral roots.
This season, local and state leaders, like Senators Bradley, Campbell, Daschle, Jeffords, Leahy, as well as the Udalls, and Patrick Kennedy's 60 Congressmen, Native Caucus, want to join Olympic racers, freestylers and stars, in expressing gratitude to their tribes for their gifts to world. Native greats, like Ross Anderson, NVF's Ambassador and spokesperson for Durango Mountain Resort, who was featured in July's Sports Illustrated as the "Fastest American on Skis,"will also be honored. NVF's first ski event celebrating the Great Plains Tribes, will be at Deer Mountain, South Dakota, on December 22nd.
"Native youth appreciate so much this chance to learn how to dance down
mountains and fly like eagles on skis and boards," said Chaffee.
Bjorn Dahl, Director of the Western Region of the National Forest Service said, "NVF's programs are the most effective way I've seen to create a dialogue between our cultures. I hope that all the U.S. Ski Areas will reach out and participate in this exciting opportunity to invite their local tribes to ski in the Great American
Outdoors - a chance to nurture future Native Olympians."
As a result of the friendships and resulting eco progress that NVF's programs have developed with Colorado's pioneering ski towns, Jim Jeffords, Chairman of the Senate Environmental Committee, will be meeting with the top Native American Ecologists to explore solving America's eco challenges together, as they do with other countries, like
Sweden.
Former Secretary of the Interior, Steward Udall, said, "NVF is on the right track. What's good for Native Americans is good for America!" To be an historic player in honoring American Indians this Olympic year, contact Native American Olympic Team Foundation at: 970-922 5406.

(Chaffee and Ross Anderson will be honored by Texaco at the Salt Lake Ski Ball on February 1, 2002, at the opening of the Games. It all started when it occurred to the Olympians at the 30th Reunion of the US Ski Team in Big Mountain, Montana, in April, 2001, that today's team would not have such an chance unless we, the Elders now, stepped up to the plate and took responsibility. All the Olympians and medalists who
could be reached voted to support NVF's work to help ensure that future generations have our opportunities to ski.)