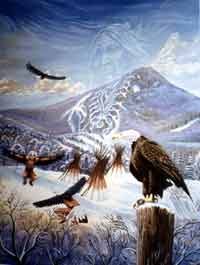 Courtesy of Seneca
Eli Thomas and Hunter Mt, N.Y.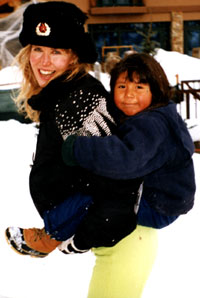 Olympian Suzy "Chapstick" Chaffee, NAOTF's Co-founder and Co-chairman, gives a ride to Navajo Cissy Esiddy at Telluride, CO, the pioneering ski resort.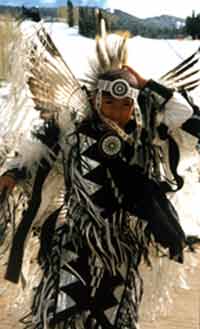 Fancy Dancer, Evan Grant, dazzles the crowd at the Telluride event.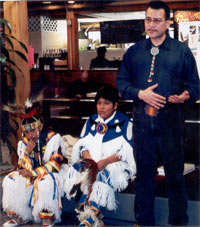 Ed Hall, Washington DC's leading Indian advocate, calls Aspen Airport's Native Art Exhibit, "a prototype for America."
More on the exhibit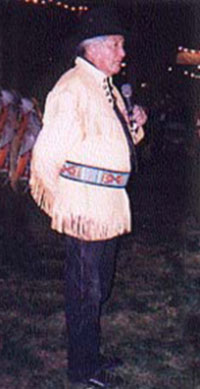 Southern Ute Co-Founder, Alden Naranjo, at memorial for brother Eugene who started unity bridge.
ďAs co-founder and Vice Chair of the U.S. House of Representativeís Native American Caucus (60 members), congratulations on your Native American Millennial Ski events. Itís heartening to know that there are groups like yours across America that are working to better the lives of their Indian friends and neighbors."
--Patrick Kennedy, Member of Congress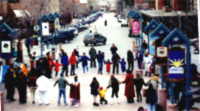 Friendship Circle Dance at Aspen's historic celebration.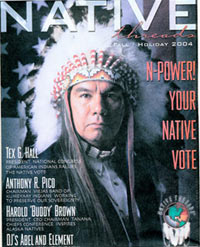 NATIVE AMERICAN OLYMPIC TEAM FOUNDATION
(Formerly Native Voices Foundation)
Creating Joyful Unity through sports and education to heal Mother Earth
for all our Children, including through the Olympics.
Olympians honoring Tribes for gifts to sport at Athens!!!
L-R US Olympian co-host Suzy Chaffee, Fernando Jose (Navajo/Inca), Ullarik (Inca), Helen Korevesis of Olympic Truce, Chasque (Taos Pueblo), Condor (Inca), and Greek Olympian co-host Mike Voudouris (who helped bring Iraqis to Games).
Read more...

(For press quality picture call Mike Voudouris in NYC at: 718-8961145 or helskel01@hotmail.com, for CD's of "Fernando Jose and Color Indigo's" breakthrough sounds... contact: fernandojose9@hotmail.com)
Vail and Aspen Business Journal & SIA's "Latest"
Suzy Chaffee: Snowdancers have much to do with recent blessing of precip

SIA Journal December: World Gratitude Snowdances Encouraged by UN; Indigenous Elders Input Key to Restoring Earth at UN's RIO+20

Mountain Rider's Alliance Announces Limited Edition Custom Ski Sale- Partnership with Skilogik offers 500 limited edition MRA custom graphic skis available across entire product line

Hail to First Lady Betty Ford, Earth Hero! (Along with the Tribes of the Americas, Carl Jung, and AA)

Reflections with Suzy 'Chapstick' Chaffee
'Amazing things happened to me by following my intuitions' - SC - Oct Powder Magazine

Miracle at Los Alamos, Thanks to World Prayers,including on US and UK's "Holy Mountains." Could They Protect London's 2012 Olympics?

UN International Mother Earth Day April 22, 2011
Inspired by the tribes!

Ute/Navajo Elders to Open Vail World Cup Dec 4,
To launch 'UN's International Mother Earth Day' Ceremonies


UN's International Mother Earth Day Ceremonies Launched – Ute/Navajo Blessings Delight Vail's World Cup

Whistler Film Spotlights Amazing North American Native talent" Storyboard - Emergency funds needed to finish this to air during Feb 12-28 Vancouver "Tribal" Olympics.

"Pioneers of Skiing, "the First Nations and Tulalip Snowboard Teams in Indian Country Today Newspaper


Hail to Billie Jean and Ted Kennedy - Native American Contributors to Title 1X. Ted is descendent of honorary Iroquois Chief

Native American Sports Foundation Established to Increase Indian Sports Opportunities and Involvement in the Olympic Games

Nobel Prize Winner Dr. Stephen Schneider Hails Tribal Snow Contributions: 'Whatever Works, Go For It!'


Olympian "Suzy Chapstick" Chaffee urges switch to natural products to "Keep Winters Cool" click here to read more

Arizona Snow Bowl should go green not gray Gray water for snowmaking vs. following nature's laws. click here to read more.

Native Voices: 7.7.07 Lowers Earth Temp, 7/17 Energizes Oceans
"Hail to Pragmatists Embracing Scientific & Spiritual Global Cooling Solutions!"

Please visit our new website: Snowriders of the American Indian Nations: Snow-riders.org

Dissidents Disrupt Boston City Hall
as Mayflower Descendants Clarify History - "Records Confirm that Pilgrims and Wampanoags lived in Harmony for First 50 Years."

Global Water Guru Considers Research Center in Big Bear
Japanese-American Indian Partnership for Mother Earth.

Snow Blankets the West after Gratitude Prayers at LA Show, organized by Native American Olympic Team Foundation


THANKSGIVING GIFT TO TRIBES BY U.S. SKIERS -Tribes Welcomed Back to 1/4 Million Acres of Homeland."

INDIANS CAPTIVATE SKI AREA GUARDIANS AT SEATTLE
With "Weapons of Mass Instruction"

OLYMPIANS HONOR TRIBES AT ATHENS -"Best games ever," say Olympians

AUSTRIANS, AMERICANS UNITE TO CHAMPION TRIBAL SKIING
Magic At Aspen's Ute-Olympic Closing

Photo caption: Shoshone Benny LeBeau, leader of Big Bear Medicine Wheel Snow Ceremony, thanked by skiers at LA Ski Dazzle Show, next to Olympic host Suzy Chaffee with Gina Weiss and seven of the 200 diverse "miracle" participants - Black Elk Prophesy.
(Photo credit: Mary Piller)

NATIVE TRIES OUT FOR NBA
Warlance Foster, Navajo-Lakota basketball star, with Nuggets manager Kiki Vandeweghe (Blackfeet heritage) during his "impressive" NBA tryout at Denver's Pepsi Center.
Read more...

Honoring the First Americans and Creating Native Olympians
(A Comprehensive Look)

Summit Daily News - Sounding the drums of change



NAOTF and SnowSports Industries of America COLORADO THANKS TRIBES FOR SNOW
magnificent ceremony by members of the Ute tribe, Denver Indian Center, and Mile High Pow Wow Association, at the Colorado SnowSports Expo on November 8.
Read More...


Olympians from seven countries honored Native Americans at the 2004 Athens Olympics for their gifts to the roots of 10 Olympic sports at the site of the first Modern Games in 1896. L-R US Olympic skier co-host Suzy Chaffee with Fernando Jose (Navajo/Inca), Ullarik (Inca), Helen Korevesis of Olympic Truce, Chasque (Taos Pueblo), Condor (Inca), and Greek Olympic co-host Mike Voudouris, who also helped bring Iraqis to the Games.

(Full story from FLASHNEWS August 28, 2004 - 800 outlets worldwide)
Read More...

Six Year-Old Indian Delaney Tyon is Nastar National Ski Champion
Read more...


Olympic skier "Suzy Chapstick" Chaffee joyfully unveiling affordable solutions right under our noses to cut global warming, fires and cancer almost in half. Read more...

Photo courtesy Telluride SkiCo, a pioneer of her Native Ski Programs


13 yr old Olympic Hopeful Mariah Cooper (Lac Courte Oreille-Oneida), Jr Miss Honor the Earth Princess, prayer-signing her love for Mother Earth to open event for Wisconsin Governor Gaylord Nelson, a Father of Earth Day.
Read more....


Ute Mt youth welcomed home to Telluride's Mt Village with Ute sculpture to ski, snowboard and celebrate by Telski and town leaders: L-R Rabbi Michael Saftler, Olympian Suzy Chaffee, Kit Collins (cowboy hat) and Mayor David Glynn. Atop, Timber Manning holds baby eagle feather. Credit: Karen Goldman.

NAOTF thanks Christopher Simmons, founder of prestigious Send2Press Newswire (R)*, for helping give American Indians a national voice.
* a unit of Neotrope(R), http://www.send2press.com/

Dr Masaru Emoto (center) sharing his "key of life" crystal research at a seminar in Big Bear Lake (S.CA) with Suzy Chaffee (Olympic skier), Gina Weiss (host), and Blue Thunder (Serrano/E.Shosht: Christie Walker one) leader of the Medicine Wheel Ceremony that saved the community. Photo credit: Christie Walker


Photo Caption: (close-up of Penelope) Two year old Penelope Rodriguez (Pawnee) of Denver's "7 Falls Dancers," melts hearts at Denise Rich's old fashion launch of Aspen's New Year. Photo credit: Jeffrey Finesilver
Read more.....


Stars of the Western ski shows (who want help to join ski areas and tribes and take the kids of both cultures skiing/boarding): Speedski champ Stew Young (Tulalip, in tuck) with Raven dancer, X-treme skier Gene Tabagan, and L-R, Timberline's Jim D'Eagle (Lakota), Lisa Santana (Lummi V.P of Northwest Indian College), "Uncle Paul" (Tlingit), and Olympic host Chaffee.
Read more...


"I'd like the thank the tribes if they are responsible for this early fluke snow storm that dumped two to four feet in the San Bernadino Mountains, and put them on our staff," announced Fritz Coleman, KNBC LA's weatherman. Following Chaffee's research, skiers got to thank the cross-cultural team at LA's Ski Dazzle Show!

NAOTF'S WisdomkeepersSponsorsPower of Sports & OlympicsNative American
Olympic Dreams Projects MVP's of the MillenniumWhy Skiing?
What Teachers have to say? Harvard's JFK Native School What American leaders say National Forest Service Mandate9/11 Trend of Healing Hearts & OnenessComparing Canadian & American Native SportsMillennial CelebrationsNative Sports and Cultural ExchangesEnvironmental Breakthroughs CasinosPreservation of CivilizationsEconomic SupportPartnering a Sustainable America

Chaffee honoring speedski champ Stew Young, as well as MVP's of the Salt Lake Native American Olympic Opening Ceremonies, Forest Cuch and Larry Blackhair (N. Utes), and Olympic ice dancing star Naomi Lang (Karuk), at NAOTF's Olympic press conference and reception that inspired the world story: "Indians End Games End Game on High Note."

Hailing from the Tulalip (Killer Whale Tribe), Stew was the "Fastest Veteran on Skis in US, 3rd in World in '98," a lead Sovereignty Runner, and Professor of Videography at Oregon State, who loves to coach and is scouting for Native Olympic talent in skiing, snowboarding, running and canoeing. The press conference, as well as SL Olympic Protection Ceremony, guided by Arvol Lookinghorse, was led by N. Ute Tribal Chairman Roland McCook and supported by Muhammad Ali (it worked!). All thanks to our sponsors: the Morongo Band of the California Mission Indians, Utah Division of Indian Affairs, and Grammy Award winner, Denise Rich.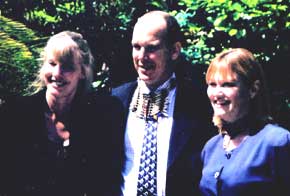 Suzy meeting with NAOTF Euro Leaders Olympian Prince Albert of Monaco, and French Princess Caroline Murat at her Monaco villa. Caroline (bi-lateral descendent of Napoleon) saluted Miss Indian World Ke Aloha Alo (Apache-Hawaiian), and Chaffee following the Salt Lake Opening Ceremonies, at her Music Festival in Gstaad in 2002.
Princess Caroline's Annual Ski & Music Festival in Gstaad, Switz
Royal Support
Princess Caroline has invited Suzy and Stew Young, Tulalip speed ski champion and member of the newly forming Native American Olympic Ski Team (before his World Cup event in Austria) to her Ski and Music Festival in Veysonnaz, Switzerland Feb 11-19, 2005, sponsored by Credit Suisse. Caroline is a world renowned pianist, became Europe's first royal advocate for the tribes after meeting Northern Ute Chairman Roland McCook in Aspen in 1999. Prince Albert, a Champion of the Tribes on the IOC, is a Lakota adoptee like his great great Grandfather, Albert 1. After hunting with the Lakotas in Wyoming with Buffalo Bill Show, he met Sitting Bull, and was inspired to found the Oceanographic Institute.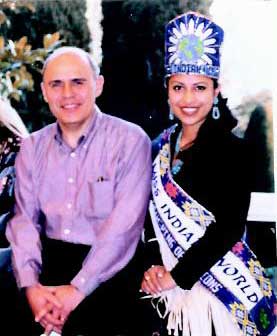 Miss Indian World, Ke Aloha Alo, meeting with Shahbaz Behnam, IOC Eco leader, at Lausanne headquarters following Gstaad. The French-speaking Indian snowboarder (now in law school) asked the IOC for funding to actually fulfill its eco initiative that recommends that we include Indigenous People in the Olympics to enhance their sustainability. On arriving, Ke Aloha quibbed to Chaffee, "IOC, that must mean the 'Indigenous Olympic Committee!'"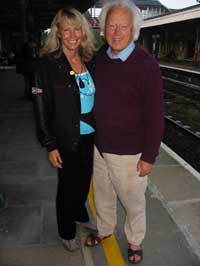 HEALING OF THE CONTINENTS EVENT
Starting with Europe and Native America!Suzy meeting with Jonathan Guinness, (Lord Moyne of British House of Lords), in England following the Athens Olympics in 2004. In honor of his earth-loving wife Shoe, whom Chaffee met at the John of God Center in Brazil, Jonathan is carrying on her dying wish to create a "Healing of the Continents," starting with Europe and the First Americans. (that we understand was started by Spain's Queen Sophia in a heart-to-heart with an American Indian dance group in the '90's.)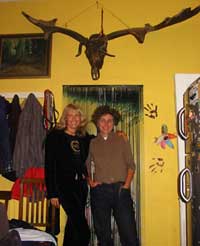 During "FESTIVAL OF WORLD CULTURES" near Dublin August 26-28 -Lord Moyne (also a brilliant writer) then connected Suzy with his trusted niece Marina Guinness in Dublin (seen here under her 5,000 year old elk horns at her manor.) With the support of their illustrious friends, family and writers, we are hoping to be able to announce at this year's "Festival of World Cultures," the planning of this historic healing event -starting with Europe and Native America - to be a priceless jewel in the crown of next year's event. This acclaimed intertribal festival is a fun, stunning backdrop for a global healing since it celebrates the cultures of 50 countries, including local and world renowned artists.During her meetings, Chaffee learned that the Guinness family, coincidentally, have the oldest DNA of the all the tribes of Ireland, the Pre-Celtic Melesians! Their name means the God of Love!! Therefore, how perfect for them to host this healing in partnership with NAOTF and the festival, which could give hope and perhaps inspire a healing of more countries, continents and humanity, especially following the terrorist bombing in London in July. We must make compassion in fashion for the sake of Mother Earth and all her children! Such a historic healing, (including Iroquois and Choctaws leaders who sent barges of food to the Irish during potato famine), will hopefully inspire a shift in our irrational focus of bombing for peace, (creates more terrorists) to speaking-from-the-heart ceremonies that heal and start anew, with festivals that - people to people - celebrate our exquisite, diverse gifts to eachother," agreed the team. (Sponsorships still available!) (See festival at: website: http://www.festivalofworldcultures.com/contact/default.asp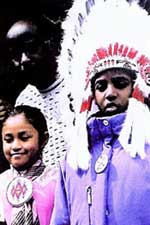 Reneissa Ridley, Northern Ute dancer/skier, making first contact with 10 yr old King Oyo of Unganda at NAOTF's first Olympic Tribal (Ski) Exchange at Keystone, Colorado. Christaid Organizer David Mporampora is behind them. While Uganda actually has heli skiing in their 14,000 ft mountains, but with finanicial and Olympic coaching support, they could turn warehouses into soccer camps, the king's favorite sport. This sent(s) a message that there is a cost-effective alternative to terrorist camps in two African countries for the 7-10 yr olds. Sports also helps delay sex and childbearing important for AIDS prevention. The king came to help the 1.5 million wild children left without parents from the epidemic. Sponsorships available.
--American Indian Report Magazine, June 2002

.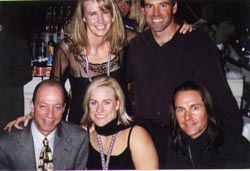 Olympians honoring Native American Olympic Team Foundation at Chicago Ski Ball in November.
Suzy Chaffee, Olympic Gold Medallist Phil Mahre, Ball Chairman
John Bucksbaum, Olympic Handicap Racer - Muffy Davis,
and honoree, Seneca James Kleinert.
Prophecy & Hope
:"Prophesy says that it is time now to share some of our sacred traditions of our culture. With the birth of the 'Miracle,' a female white buffalo in 1994 in Wisconsin, it signals the time when the 4 colors of man will be coming together to unite and heal. Creator has given different gifts and responsibilities to each of the colors. Ours is to help preserve Earth for all the children. Time is running out. It's time to act," say many Indigenous spiritual leaders of the Americas.
Coincidentally, in 1994, the Trends Institute, which goes to most newspapers, said that Ancient Wisdom is on the rise throughout the US and world, finding that materialism isn't fulfilling happiness. Trends predicted that "around the turn of the Millennium, we would start incorporating the American Indian's philosophy of Nature into our definition of Patriotism, and within a decade have an overarching love of our lands." It's happening!
Here and now we can all choose to stop reruns that "continue the past," and take a higher road, through forgiveness and loving thy enemy, like Jesus and the Tibetans. What we put out, we get back, because we are one. All races have at some time suffered an assassination of the heart - been abused, exploited, removed and genocided. At Aspen's Ute Millennial Ceremony, inspired by the Pope's apology, our community took the first wobbly (then exhilarating) step toward apoligizing, forgiving and making amends so that we can together "walk in beauty" into a bountiful new Age! A Millennium that is sustainable because we are going back to honoring the Universal Laws of Nature of our ancestors and most Indigenous Peoples.
Through all the media coverage about the gifts of First Americans, we are turning prejudice into awe and appreciation. By putting Native children under our wings, we are giving everyone a chance for an abundant future - synthesizing the best wisdom of our old and new Nation into a sustainable American Dream. "This is a good way to create the happiness, the harmony and the brotherhood for all Creator's Children." (Alden Naranjo.)
From the heart,
Native American Olympic Team Foundation Board
.
"As usual Suzy, you're working on good causes. I commend you for your efforts to recognize the contributions of Native Americans in our country. I think the Native American Olympic idea is great. I'll do anything I can do to help."
-- Bill Bradley
"Congratulations on all the efforts of Native American Olympic Team Foundation. All of us at Steamboat Ski & Resort Corporation hope that the success of our "Future Ute Olympians Program" (taught by Billy's Olympic coaches) will stimulate other resorts and towns to host Native American youth for ski and snowboarding experiences. If we may be of further help in spreading the word, please let us know." --Chris Diamond, President, and Billy Kidd, Director of Skiing
SPECIAL THANKS to Lloyd Baldeagle and Timothy Marquand, (son of a Pulitzer Prize winner), a musician who distributes African tribal music through Stern's. Both have been helpful in finding the right words to bridge the understanding between our cultures through this Home Page, along with Webmaster Debby West at Hologram Communications. . Thanks also to Scott Halazon, a Harvard MBA with Big Key advanced technology, Barry ZeVan, Sue Miller, Cherokee scientist Lisa Tully, and Joanie Klar for helping with grants, as well as all those who have contributed to this progress for humanity.[Top of Page]
Contact: Suzy Chaffee
suzynativevoices@aol.com
Thanks to our webmaster:
webmaster@hologram.net

.